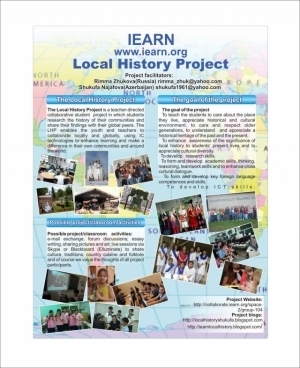 Local History Project brought to you by iEARN
Local History is the history of our home places which can also include the history of our families, descriptions of traditions, country cuisine and folklore.
The Local History Project is a teacher-directed collaborative project in which students research the history of their communities and share their findings with their global peers. The Local History Project enables the youth and teachers to collaborate locally and globally using technologies to enhance learning and make a difference in their own communities and around the world.
The goal of the project:
To teach students to care about the places they live, appreciate historical and cultural environment, to care and respect older generations, to understand and appreciate a historical heritage of the past and the present.
To create background of their own history and enhance awareness of the significance of local history to students' present lives.
To develop research skills using a variety of sources such as interviews, letters, diaries, blogs and books.
To form and develop academic skills, thinking, reasoning and teamwork skills.
To form and develop key foreign language competencies and skills.
To develop ICT skills.
At the end of the projects students make a project board and present their project at school and share their ideas with their peers.
Students conduct research about the history of their local communities and then share their findings in the form of essays, power point presentations, art and photos in an on-line forum.
---